Most people think of Walloon Lake as a summer-only destination. And yes, the majestic blue waters here are a boating paradise…but this northern Michigan community is also breathtaking covered in freshly fallen snow!
Years ago, before I moved to the area from downstate, my friend Joe Bridenstein touted the Walloon Lake area as a four-season escape. An advocate of spring tourism, he often told me there is no such thing as bad weather in Michigan…only bad clothing choices! I think of that statement and Joe often, especially as the seasons change.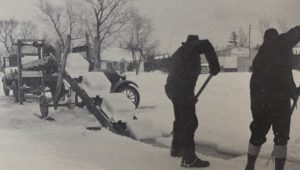 Ironically, winter provided one of the greatest summer commodities in the early 1900s…ICE! Before every house had electricity, a refrigerator or freezer, they kept their perishable items in an icebox. Local businessman Al Haas, Sr. built and operated a large ice house in the downtown area and as the lake froze over he would hire men to harvest large 18-inch thick chunks of ice that were stored and later sold to locals, summer residents and the many resorts that dotted the shoreline. It was quite an operation and a luxury that was often taken for granted by those who weren't aware of the time and effort involved in the process.
Winter recreation was then and remains now an active business within a short drive of Walloon Lake. Boyne Mountain in nearby Boyne Falls was the first to open in December 1948 (as Boyne Ski Club) when Everett Kircher, Jim Christianson and John Norton purchased the 40-acre site from Michigan Senator William Pierson.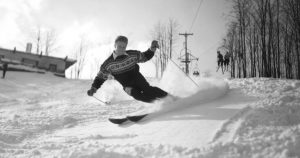 Within a decade the Walloon Hills Ski Area opened across US-131 and in 1958, Sports Illustrated reported the facility had four miles of trails and a 2000-foot poma lift with a 400-foot rise. Apparently, it was just the 91st Poma lift installed in the United States…right here in northern Michigan!
A quick sidenote for non-skiers like me, according to SnowboardingHelp.com: "The Poma lift, while resembling a T-Bar lift, is unlike any other lift that you will see on a ski hill. Often you will hear a Poma lift called a Button lift due to the tiny seat that resembles a button. Poma lifts derive their name from the leading manufacturer of them, Pomagalski. A Poma lift is essentially a pole with a seat suspended from a set of springs. This pole is connected to a high-level moving cable. The springs in the arrangement give the impression of a pogo stick.  Hence the nickname, 'pogo stick of the ski hill.'
Walloon Hills has quite a history and current purpose, and I'll delve into that in a future post.
A bit further out from the Village of Walloon Lake, skiers, snowboarders, snowshoers and other outdoor enthusiasts will find resorts in Harbor Springs, Bellaire and Gaylord meaning there are countless opportunities for snowy fun. The Hotel Walloon offers stay-and-play packages with a handful of these facilities. They even provide free cross country skis, ice skates, boot warmers and transportation to local ski resorts for guests.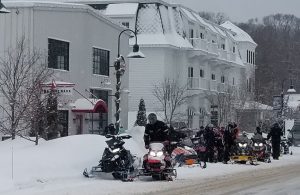 For those who feel the need for winter speed, Walloon Lake Village is the perfect Up-North jumping off place for snowmobilers, with a spur in the village directly connected to the trail at the Melrose Township Park. Tommy's – Walloon Lake provides a gas fueling station for riders, while Barrel Back Restaurant and Walloon Lake Inn provide sustenance to fill one's belly. For trail maps and conditions, check out the website for the Petoskey Snowmobile Club.
Now, one wouldn't necessarily think of getting out on the water this time of year – but it is an option! Both Jordan Valley Outfitters in East Jordan and Big Bear Outfitters in Indian River offer winter rafting trips (down the Jordan and Sturgeon Rivers, respectively). Just a short drive away from downtown Walloon Lake, these two operations offer one of the neatest winter experiences in the state and its perfectly safe! Skilled and seasoned guides navigate inflatable rafts down the rivers and viewing the snow-laden shoreline and trees is a sight to see and will be something you'll remember and talk about for years!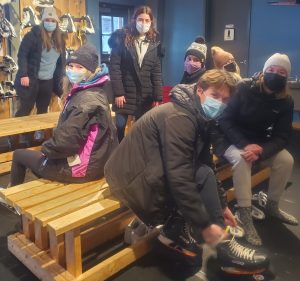 Snowshoeing is fun, relaxing and easy-going way to explore the woodlands around Walloon Lake during the winter season. Bois LeDuc Preserve, Frog Hollow Preserve and Ellis Woods Preserve – all under the management of the Walloon Lake Association and Conservancy – are great places to start. Tommy's even has snowshoe (and cross country ski) rentals if you're in need, for $25 per day (per person). Next to Tommy's and Barrel Back, in the village open space, is an ice skating rink which is open from Noon to 8pm daily (weather permitting). No skates? No worries…Tommy's can hook you up for free!
Each year, a family friendly Walloon Lake Winterfest is also planned and this year's date is Saturday, February 20. Among the planned activities including a Michigan craft beverage tasting, ice carving demonstrations, an antique snowmobile show, free hot cocoa bar and bean pot, and a visit from the Village Yeti. Additional events may also be added, and details will be added to the official Walloon Lake Winterfest Facebook Event. I hope to see you there…and remember, dress warm (and in layers).
Safe Travels,
Dianna Stampfler
Walloon Lake Resident