Northern Michigan Hemingway Sculpture Idea was Born Decades Ago in Cuba
This bronze sculpture sits very near the place where Ernest was first introduced to this picturesque community (and lake) in the fall of 1899. He was just three months old that year when he came with his parents, Grace (Hall) and Clarence Hemingway, and his older sister, Marcelline, traveling from Chicago via steamer to Harbor Springs, then several trains into Walloon Lake before taking another smaller steam launch to their newly built cottage, Windemere, on the lake's North Shore.
Walloon Lake's Michigan Historical Marker
In 2010, the Village received an Historical Marker from the State of Michigan recognizing the Hemingway at Walloon Lake, erected in Melrose Township Park. The Michigan Historical Marker Program was established by the legislature and governor in 1955. Since then, more than 1,700 have been placed all across the state—and in several other states and Europe—making Michigan's one of the premier marker programs in the nation.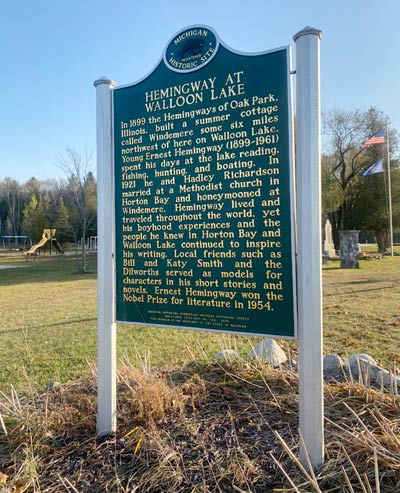 Interpretive Signs Tell Walloon Lake's Early History
In the fall of 2021, a series of historical signs were placed in Circle Park along the shore of Walloon Lake to tell the Village's early story – from the railroads and steamboats to the many hotels and boarding houses that welcomed guests in the late 1800s and into the early 1900s. Each of the five signs (including one about Hemingway, located near his bronze statue) include a variety of photographs as well as text.
Anishinaabek Sculpture: Nitzhwaaswe Kinoomaagewinan – The Seven Grandfather's Teachings
Walloon Lake Village sits on the traditional homelands of the Anishinaabek Indian Tribes (Odawa, Ojibwe, Potawatomi). This sculpture represents Nitzhwaaswe Kinoomaagewinan – The Seven Grandfather's Teachings. The Seven Grandfather's Teachings were gifts to the Anishinaabek to help them live life in a good way, to respect the Creator, the earth and each other. They are traditional teachings that have been passed down from generation to generation and are still used to guide families today.
These include:
Nbwaakaawin – Wisdom (beaver)
Zaagidwin – Love (eagle)
Maanaadendmowin – Respect (bison)
Aakdewin – Bravery (bear)
Gwekwaadzwin – Honesty (raven)
Dbaadendizwin – Humility (wolf)
Debwewin – Truth (turtle)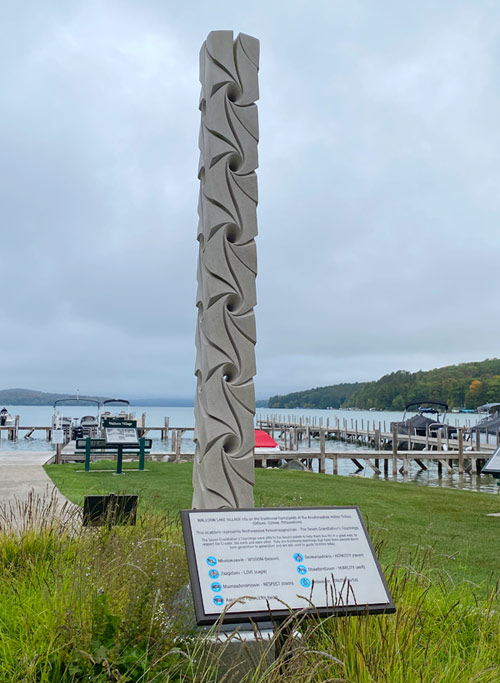 Check out the Crooked Tree District Library
Tucked into a wooded parcel at 2203 Walloon Street, the Crooked Tree District Library in Walloon Lake offers a quiet place to read, research and enjoy the natural surroundings. This branch is open Mondays (4-8pm) and Tuesdays & Wednesdays (10am-5:30pm). It is also part of the Northland Library Cooperative, a non-profit resource sharing network of public libraries in eleven counties in northern lower Michigan: Alcona, Alpena, Charlevoix, Cheboygan, Crawford, Emmet, Montmorency, Oscoda, Otsego, Presque Isle, and Roscommon.
Hemingway Themed Little Free Library Found in Downtown Walloon Lake
Ernest Hemingway was born on July 21, 1899 – and on his birthday in 2021, the Friends of the Crooked Tree District Library and the Village of Melrose Place dedicated a Little Free Library downtown dedicated to the Pulitzer and Nobel Prize winning author (and affectionately call it "Ernie").
"Ernie" – Walloon Lake's Little Free Library – was dedicated on July 21, 2021. Pictured: Martha Coscina, Friends of the Crooked Tree District Library and Ken Mainland, nephew of Ernest Hemingway (and grandson of Madelaine "Sunny" Hemingway Mainland).
Walloon Writers Review Showcases Regional Photography and Writing
Walloon Writers Review collects and shares contributed stories, poetry, creative writing and nature photography that capture that unique experience of Northern Michigan and the Upper Peninsula, into a printed literary journal available for purchase at area bookstores. Walloon Writers Review is happy to consider work from established writers, including those we have published previously and we are eager to publish new and emerging writers, particularly writers from under-represented communities.