Enjoy the Outdoors in Walloon Lake
No matter the season, the Walloon Lake area offers a variety of recreational activities – from boating and fishing to pedaling and paddling, skiing and snowshoeing to golfing and hiking, plus so much more. Whether you're here for a day, weekend, season or lifetime, this treasured area of northern Michigan is waiting for you!
Choose a Season
Winter | Spring | Summer | Fall | Year-Round
Winter
Winter recreation was then and remains now an active business within a short drive of Walloon Lake. You can hit the slopes on skis or snowboards, take to the tubing hills or head out into the woods for a cross country ski or snowshoe trek. The frozen waters of Walloon Lake (which once provided ice for summer resorts back in the early twentieth century) are dotted with shanties for fishermen looking for their cold-weather catch.
Walloon Lake Village is also the perfect Up-North jumping off place for snowmobilers, with a spur in the village directly connected to the trail at the Melrose Township Park. Read more about this beautiful season in Winter in Walloon.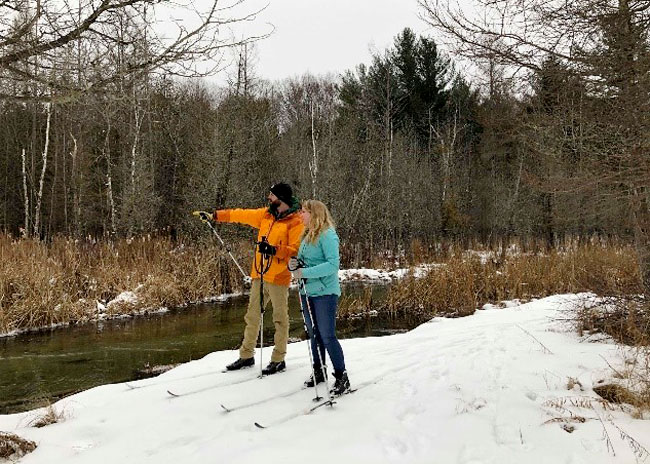 Spring
With so many preserves, trails and nature areas within the Walloon Lake area, there are countless opportunities to see spring come to life. The first sign of the changing of the seasons is when the sap begins to flow in the maple trees, trees are tapped and "liquid gold" is collected to be boiled down into delicious maple syrup. Next come the beautiful trillium, blanketing the wooded hillsides…along side wild ramps and morels welcoming foragers to gather them for a delicious spring feast! Did you know one of Michigan's longest-running fungi festivals – the Boyne City Morel Festival – is held each May just down the road in our neighboring community (dating back 60 years)? May is also "Michigan Wine Month" – the perfect time to visit the dozen or so wineries in our area that make up the Petoskey Wine Region.
Associations
Summer
For generations, visitors have flocked to Walloon Lake during the summer months to spend time with family and friends. The majestic waters of this historic lake are adored with boats of all styles and sizes – including the famed 17 sloops first built exclusively for sailing here in 1934. There are several boat launches around the lake, with the most used being the Melrose Township site downtown next to Hotel Walloon. Tommy's – Walloon Lake manages a 60-slip marina, where they sell and rent boats as well.
Fishermen love Walloon Lake (just as Ernest Hemingway did during his youthful summers here). With water depts from 28 to 100 feet, anglers will find trout (lake, brown and "the best rainbow trout fishing in America" according to Ernie), smallmouth bass, rock bass, bluegill, perch and walleye.
Off the water, visitors and locals enjoy hitting the many trails that traverse the area for biking. Phase III of the Boyne City to Charlevoix Trail is set to get underway in 2021 and will pass through historic Horton Bay. When complete, this route will offer 14.34 miles of biking options. The Boyne Valley Trailway is a 6.3-mile paved non-motorized multiuse pathway that connects Boyne City and Boyne Falls. For those looking for a longer trek, the Little Traverse Wheelway travels 26miles between Charlevoix and Harbor Springs (Charlevoix and Emmet Counties) along stretches of Little Traverse Bay.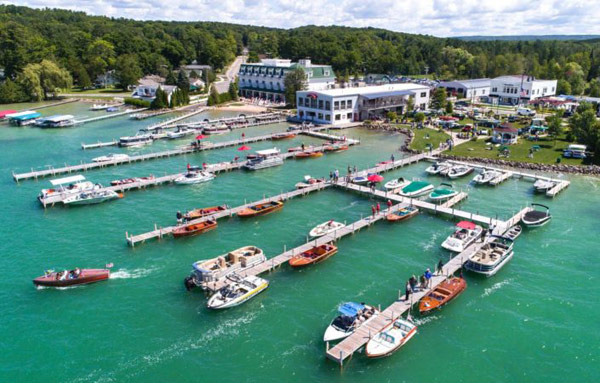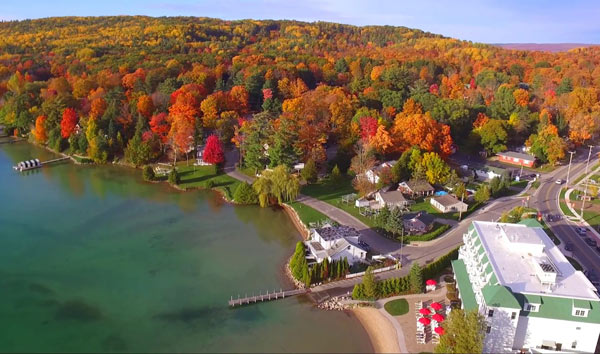 Photo by Adam J. Morris II
Fall
Some may suggest that Walloon Lake is its prettiest during the fall season, when the deep blue waters shimmer against the backdrop of a kaleidoscope of colors – varying shades of red, yellow and orange hues along with the dark towering evergreens – on the hillsides that rise up from the shoreline. And they wouldn't be wrong. Northern Michigan is among one of the most popular travel destinations in American this time of year, when crowds and the heat of summer have diminished and life takes on a more relaxed tone. This is a great time to take a hike through one of 90+ natural areas under the direction of the Walloon Lake Association and Conservancy, where hiking, kayaking, birding and even hunting are among autumn's activities.
Birding
Year-Round Recreation
For hearty souls, many of the recreational activities listed here know no season…even paddling the rivers is an exhilarating way to spend a winter day.
Whether exploring the preserves with Walloon Lake Association and Conservancy or Little Traverse Conservancy, or visiting one of the area Michigan State Parks (Young in Boyne City (opened 100 years ago in 1921), Fisherman's Island in Charlevoix and Petoskey State Park in Petoskey – the latter two being prime places to search for Petoskey Stones), the Walloon Lake region is unparalleled.
Tucked in between Boyne City and Petoskey, you're just a quick drive to the shoreline of the only Great Lake located entirely within the United States – part of the greater 1100-mile Lake Michigan Circle Tour.
There are even parts of the famed North Country Trail – which stretches through eight states for a whopping 4,600-miles – which pass near our area. The Jordan Valley 45° Chapter covers an 80-mile stretch from Starvation Lake Road southeast of Mancelona, north to Kipp Road north of Petoskey where it connects with the 46-mile Harbor Springs section, ending at the Mackinac Bridge in Mackinaw City.