Hemingway's Michigan | Get the Brochure!
Learn more about Ernest Hemingway's Michigan experience with a self-guided tour of nearly 20 Hemingway sites around northern Michigan. Download the brochure from www.MIHemingwayTour.org and get detailed maps, photos and more.
The Hemingway Story
The Hemingway family of Oak Park, Illinois, made their way to northern Michigan for the first time in 1898 and instantly fell in love with the natural surroundings of what was then known as Tolcott (established in October 1897 and renamed Talcott – meaning "cottage near the lake" in March of 1899).
Determined to find a suitable place to build their summer cottage to entertain their new family, Dr. Clarence Hemingway and his wife, Grace (Hall) Hemingway, set out by boat to explore the shoreline and ultimately found (and subsequently purchased) four lots that was part of Bacon's Farm on the north shore.
They eventually spent $400 to have a single-story 20' x 40' frame structure, with a gabled roof and white clapboard siding, constructed on the site. The simple cottage was completed by September 1899 — a full year before Walloon Lake was officially designated as the area's forever name. By this time, there were two Hemingway children to enjoy the summer retreat affectionately named Windemere: Marcelline (born in January 1898) and Ernest Miller (born in July 1899 and named for his maternal grandfather, Ernest Miller Hall).
The main building featured sleeping and living rooms (with window seats that converted to beds for the children), as well as a utility closet (there was an outhouse for perhaps decades before indoor plumbing was added). A smaller section including a kitchen and a screened breezeway (now enclosed) were added at the same time a smaller "annex" was constructed behind the main house, providing additional sleeping spaces for the growing family (the Hemingways would eventually have six children – Marcelline, Ernest, Ursula (1902), Madelaine "Sunny" (1904), Carol (born at Windemere in 1911) and Leicester (1915).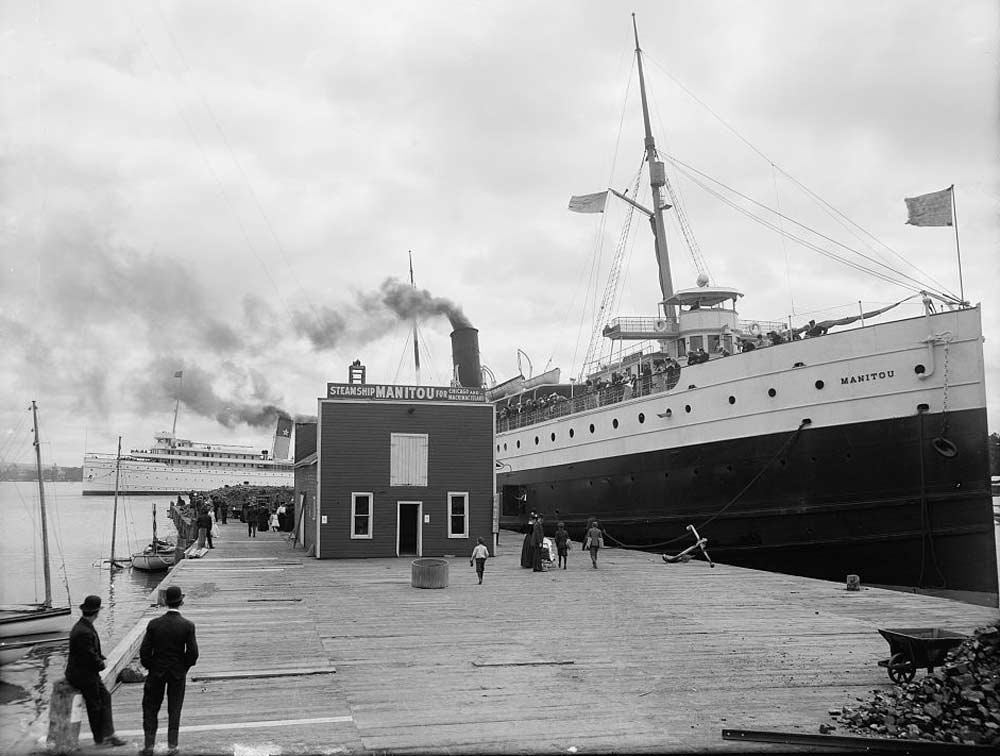 The Journey to Michigan
Getting to Walloon Lake from Oak Park was always an adventure, resulted in extended summer-long stays for Grace and the children (and their nurse or house-girl). Still a practicing physician back home, Clarence would make the 350+ mile (one way) trip several times each season.
Travel to northern Michigan in the early Twentieth Century was an elaborate and time-consuming affair. After packing their trunks, suitcases, crates and barrels with food, kitchen wares, bedding, clothing and other necessities for the family, the Hemingways would make their way to the boat docks in downtown Chicago. There, they would board a massive steam ship like the Manitou, for the 24- to 32-hour trip up Lake Michigan to Harbor Springs (the deepest and naturally protected harbor in the region, on the northern shore of Little Traverse Bay). The fare was $5 per person (with meals and berth extra). Later ships, like the Petoskey and Charlevoix, took a bit longer (40 hours) however meals and berth were included in the $7 fare.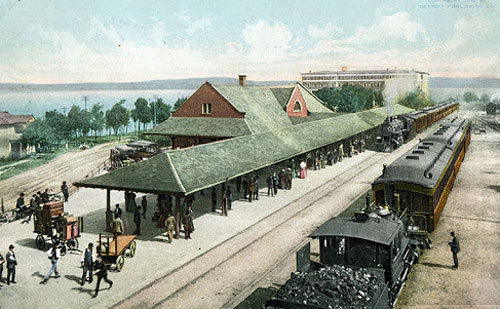 In Harbor Springs, the family and their belongings were transferred to a commuter train line – called a "dummy" – which would traverse east and south to the downtown Petoskey depot. Bright red passenger cars with open vestibules and hard wooden seats were pulled along the tracks by small black engines. The fare for this part of the trip was 15-cents, per person each way (at least for adults). As many as two dozen of these trains ran daily between the communities, with five stops along the 25-minute, 8-mile trip.
Once in downtown Petoskey, the family and their gear would transfer to yet another train line for the second to last leg of the trip to Walloon Lake some 8.5 miles to the south. As the crystal blue waters of Walloon Lake came into view, the Hemingways knew the were almost home to Windemere. While a horse-drawn wagon would transport their belongings, the family would board another, smaller, steam vessel called the Tourist, which delivered summer residents to their cottages and vacationers to the dozen-plus resorts scattered around the lake.

Ernest Hemingway is Introduced to Michigan
Ernest Hemingway was a mere three months old in the fall of 1899 when he made his first trip to northern Michigan. Little did the family know how this region would ultimately shape his life and career. It was here, on Walloon Lake and in the neighboring areas like Horton Bay, Horton Creek and the Pigeon River area, where Ernest learned to hunt, fish, swim, boat, write and love.
In 1905, a 40-acre parcel of land across the lake known as Longfield Farm was purchased so that the family could grow much of their own fruits and vegetables for summer consumption. Ernest was charged with working the farm, between his time spent fishing, camping and writing.
During his teenage years, Ernest would also head off to meet up with friends in Horton Bay – including Bill Smith and his sister, Kate who were from Chicago – and they would spend days and nights swimming, fishing, boating and enjoying summer on the lake. It was also a place where Ernest could escape the younger siblings back at home who likely cramped his style as an increasingly independent teenager.
By 1917, the roads between Chicago and Walloon Lake had improved considerably and that summer Clarence decided to drive north for the summer in his Ford Model T. Given the car was too small to transport the entire family (not to mention the multiple days spent to make the trip), he sent his daughters via the Manitou while he, Grace, Ernest and two-year-old Leicester made the automobile trip.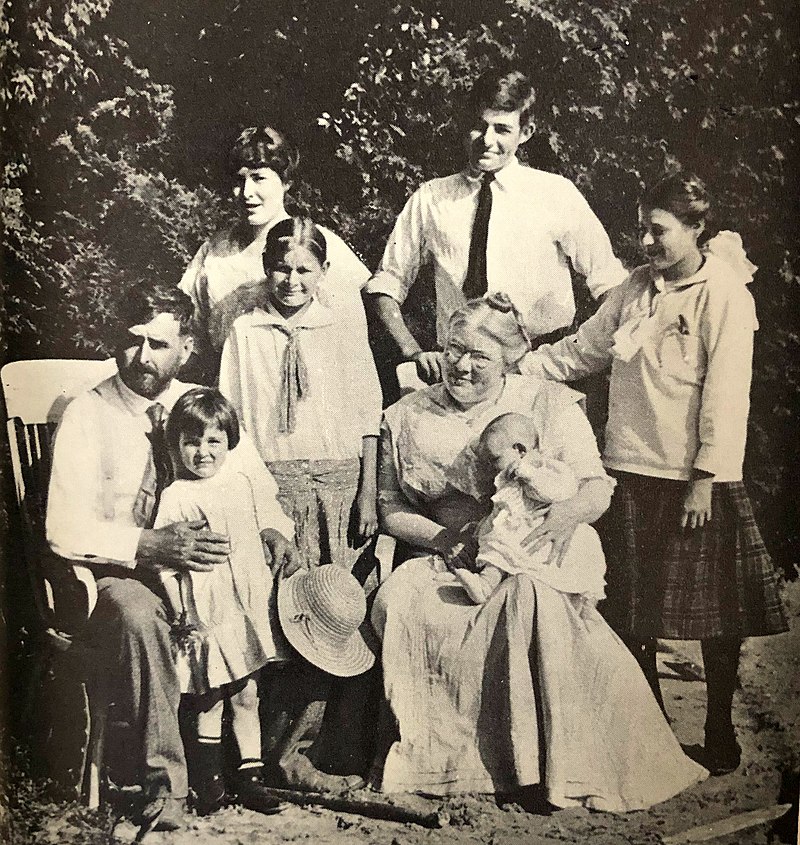 Dr. Hemingway was also a storyteller, with journals and photographs documenting the five-day excursion. They camped in tents, enjoyed freshly caught fish for breakfast and grumbled about stretches of rutted or often closed roads. It is said they drove an extra 100 miles because of various detours along the way. Apparently, Clarence was frustrated enough with the experience that he shipped the car home via steamship at the end of the summer.
Ernest wasn't the only one who craved quite time alone during those long summers in paradise. In 1919, Grace had her own cottage built across the lake near Longfield Farm so that she could read, play the piano and generally escape the daily grind of parenting a brood of six rambunctious children.
Every summer, until 1921, Ernest would find at least some time here exploring the woods and water of the area. In 1918, his visit was brief as he was shipping off to Italy to serve as an American Red Cross ambulance driver during World War I. The following summer, he would retreat here to recover from his war wounds (physical, mental and emotional) while also venturing to Petoskey – dressed in his military uniform – to speak at the Carnegie Library about his service.
On September 3, 1921, Ernest and his first wife, Hadley Richardson, were married at the Methodist Church in Horton Bay and then spent their honeymoon at Windemere (where they both battled food poisoning followed by the flu). It was Hadley's first and only trip to Walloon Lake, and it was Ernest's last.
Yet, northern Michigan would live on in Ernest's heart and soul. It would become the beloved backdrop of his famed collection of short essays known as "The Nick Adams Stories" which was published posthumously in 1972 (and in 2008, was selected as the first title for the Library of Michigan's "Great Michigan Read" program).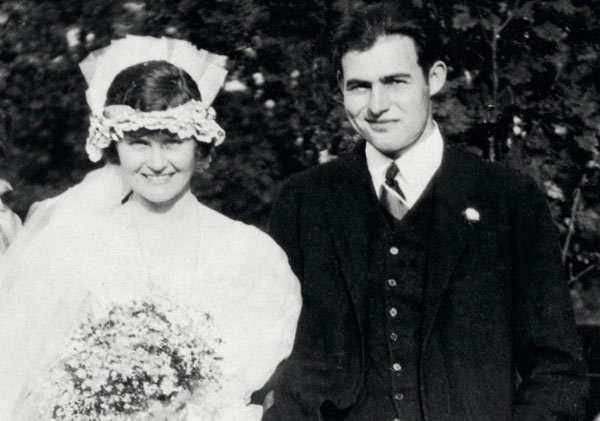 It was here, along the shores of Walloon Lake and the babbling waters of Horton Creek, where Ernest (later a Pulitzer and Nobel Prize winning author) became the outdoorsman and the writer eventually known as Papa.
The Hemingway family still calls Walloon Lake and Windemere home. Today, Windemere is owned by Sunny's grandson (and Ernest's great nephew), Ken Mainland and his mother-in-law (following the January 2021 passing of Ernie Mainland, Sunny's son and Ernest's nephew). On November 24, 1968, the cottage was added to the National Register of Historic Places. Grace Cottage also still stands and was recently renovated, although not owned by anyone in the Hemingway family.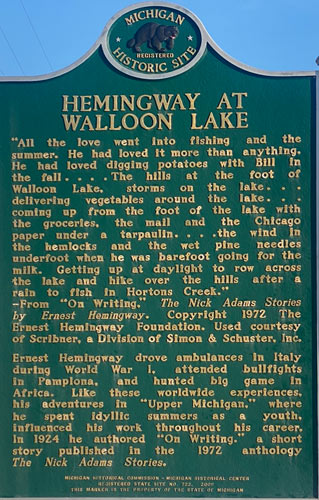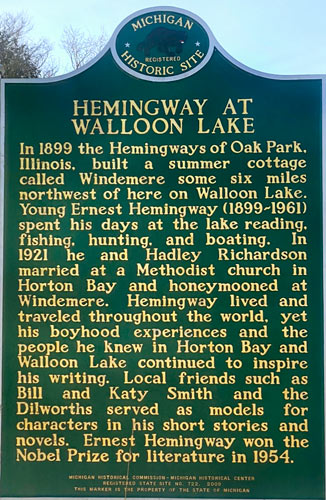 "The Old Man and the Cat"
On September 4, 2021, the village of Walloon Lake – along with the Michigan Hemingway Society – unveiled and dedicated a sculpture by George Lundeen called "The Old Man and the Cat" to honor Ernest Hemingway's legacy in this region of northern Michigan.
Read more of the story here:
Northern Michigan Hemingway Sculpture Idea was Born Decades Ago in Cuba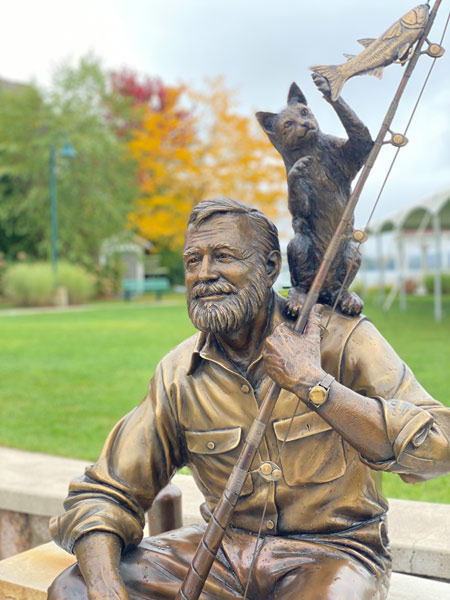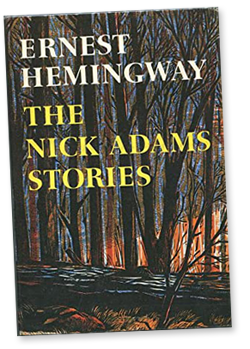 Hemingway in Northern Michigan
Check out these great resources to learn more about the Hemingway family in Michigan
PHOTOS: Michigan Hemingway Society, Library of Congress