Ernest Hemingway and his five siblings were destined to be writers! Their mother, Grace Hall Hemingway – a trained opera singer and music teacher, instilled a philosophy of culture among her children that included music and art, as well as the written word.
Grace was famous for her detailed scrapbooks, chronicling the lives of her children. Thankfully, many of these historical collections have been preserved. Carefully flipping through these delicate and detailed volumes gives an in-depth look back at the upbringing of one of America's most noted authors.
"Early glimpses of his [Ernest's] storytelling skills can be seen in a document from the seventh grade titled 'Class Prophesies' in which he predicts the fate of various classmates," according to a posting about a childhood scrapbook on the John F. Kennedy Library website. "The final scrapbook [in the library's archives] provides early glimpses into Hemingway's development as a writer. Among other material, the book includes clippings from some of Hemingway's first assignments as a reporter for his high school newspaper, a sonnet written by Hemingway, and a short story by the author that appeared in his school's literary publication."
While Ernest Hemingway and President Kennedy never met, JFK more than once expressed his admiration for Hemingway and his work. In 1964, after both men had had passed away (Hemingway in 1961 and Kennedy in 1963), Mary Hemingway (Ernest's fourth and final wife) contacted Jacqueline Kennedy and offered Ernest's collection to the John F. Kennedy Presidential Library and Museum, which was in the planning stages.
"A 1968 exchange of letters between Mary Hemingway and Jacqueline Kennedy confirmed that the Hemingway papers would be archived at the Kennedy Library. In 1972, Mrs. Hemingway deeded the collection to the Kennedy Presidential Library and began depositing papers in its Archives," as noted on the JFK Library website. "On July 18, 1980, Patrick Hemingway, the writer's son by his second wife Pauline, and Jacqueline Kennedy Onassis dedicated the Hemingway Room in the newly opened John F. Kennedy Presidential Library on Columbia Point."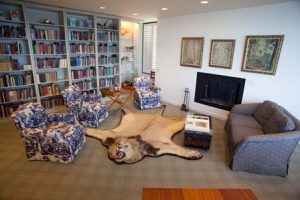 According to the library, about one of every five researchers who visits its esteemed facility is looking for information on Hemingway. "The Kennedy Library holds about 95% of the existing papers and artifacts of the Nobel Prize winner, who many consider to be America's greatest writer."
While most know Ernest Hemingway for his newspaper and magazine articles, as well as his short stories and novels (including "The Old Man and the Sea" which received the Pulitzer Prize in 1953 and the Nobel Prize in 1954), his formal writing began at Oak Park High School in Illinois, where he attended with his older sister Marcelline. Ernest wrote for the school yearbook, Tabula, and the school newspaper, Trapeze (which he and Marcelline alternated as editor). His first articles were humorous pieces in the style of popular satirist Ring Lardner who was born 14 years before Hemingway (1885), in Niles, Michigan.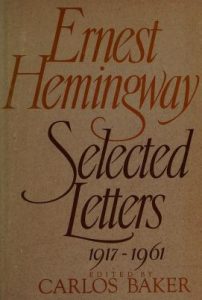 The Hemingways were also voracious letter writers, so much so that an impressive collection of Ernest's correspondence (to and by him) remain more than 100 years later. In 1981, Hemingway biographer Carlos Baker edited a book ("Ernest Hemingway Selected Letters 1917-1961") composed of letters dated between 1917 (the year Ernest graduated high school) and 1961 (the year he died), many of which were found in Hemingway's Cuban home – Finca Vigia, after his death.
Hemingway lived in this house-turned-museum from mid-1939 until 1960 (renting it with his third wife, Martha Gellhorn, before buying it in December 1940). After Ernest's death, wife Mary was allowed to remove personal property (paintings, books, letters and manuscripts kept in a Havana vault) in exchange for the house and furnishings which were given to the Cuban government.
Over the years, these letters have become vital components to Hemingway's history both to readers and scholars as part of the Hemingway Letters Project – a comprehensive scholarly collection of some 6,000 letters approximately 85 percent never before published – from Cambridge University. It was Ernest's middle son, Patrick, who came up with this brilliant idea which has since been authorized by the Ernest Hemingway Foundation/Society and the Hemingway Foreign Rights Trust. It is expected to take as many as 20 years to compile and publish the 17 volumes in the complete collection.
Launched in 2011, the series currently includes five volumes broken down in to spans of time: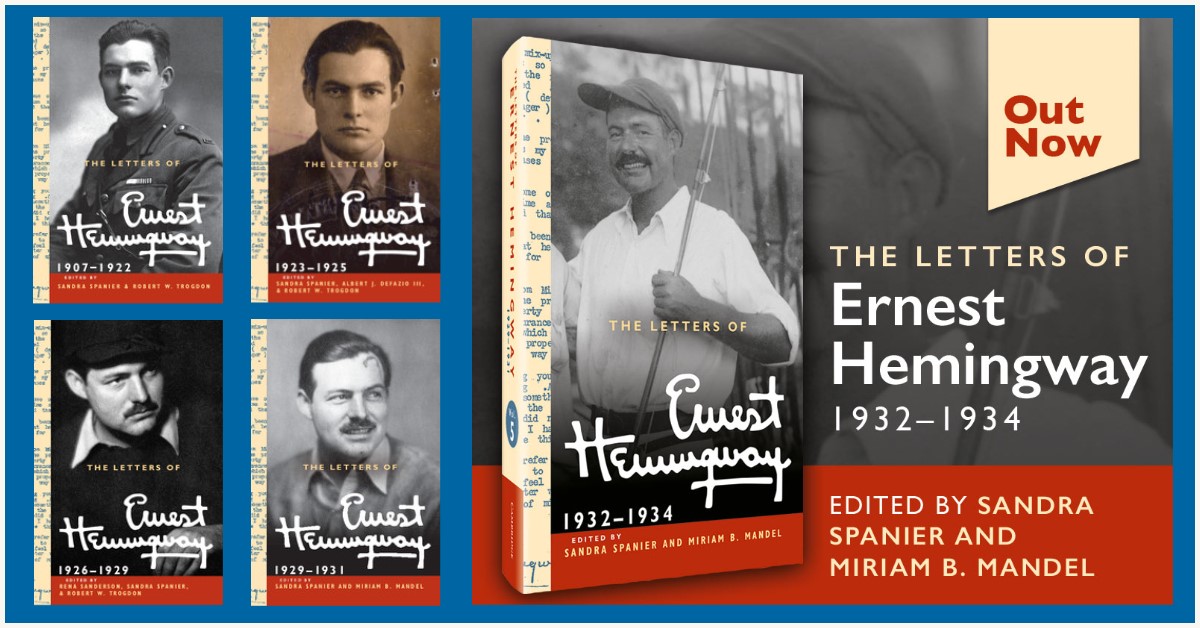 In August 2021, The Hemingway Letters Project was awarded $450,000 from the National Endowment for the Humanities (NEH) meaning over the next three years work can continue on the project – specifically volumes six through eight written between June 1934 and 1942. Volume six will also include an appendix of earlier letters that have come to light after publication of the volumes in which they would have appeared.
For the latest updates, visit  https://www.facebook.com/HemingwayLetters
Following Ernest's death, several memoirs were published by his siblings, featuring quotes from family letters as well as a wealth of historical photographs – including many taken in and around Walloon Lake in northern Michigan.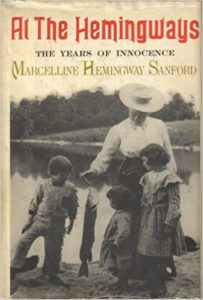 "At the Hemingways" was first published in 1962 by Marcelline Hemingway Sanford – who was regarded as a writer, actor, sculptor, lecturer and a devoted wife and mother. "One of Marcelline's goals in writing her memoir was to 'set the record straight' wrote Lucille deView in the July 22, 1999 issue of Christian Science Monitor. "Hers is a straightforward account, and the exchange of letters added to this edition reinforces the depth of their relationship." Interestingly, deView worked as a mother's helper for Marcelline in 1939 at the Hemingway summer cottage, Windemere, on Walloon Lake. She later wrote a play based on the experience called "A Summer with Hemingway's Twin" which was included in the Charlotte Repertory Theatre's 1999 Festival of New American Plays. The play, a series of postcards from that summer, showcases the Hemingway family as deView knew them.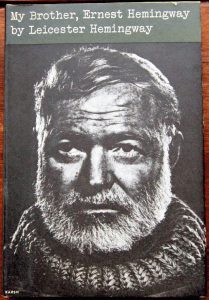 "My brother, Ernest Hemingway" was also published in 1962 by Leicester Hemingway. It is noted as the only biography that Ernest knew about (and was pleased with) although it is said he did ask his brother to postpone publication while he was still alive. "Leicester was the archetypal kid brother, 16 years younger than the great man, whom he adored and in whose footsteps he followed, becoming a respected writer, sharing his brother's love for high risk and adventure, and, when his health failed, choosing to end his own life as Ernest had done. In this poignant biography, Leicester has given us insight into his world-renowned brother's life and career as no one else could. His reminiscences allow us to better understand what prompted so many of the familiar Hemingway responses, and the experiences from which he derived material for his novels and stories."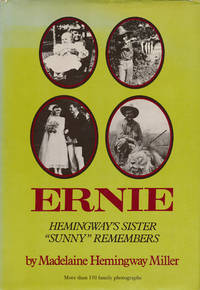 Ernie: Hemingway's Sister "Sunny" Remembers was published by Madelaine Hemingway Miller (Hemingway's beloved younger sister) on December 31, 1975. "Her memoir is warm, perceptive, and full of intimate details about her famous brother. Hundreds of anecdotes and over 140 family photographs, many not available elsewhere, give clues to the origins of the Nick Adams stories and other facets of Ernest Hemingway's life and writing" according to GoodReads.com.
Other members of the Hemingway family – including children, grandchildren and great grandchildren – have also followed in Ernest's creative writing footsteps:
Papa: A Personal Memoir was written by Gregory H. Hemingway, Ernest's youngest son (nicknamed Gigi), in 1976. "[Gregory] wrote of his father's compassion and sometimes obsessive creative drive, forces that left an indelible mark on those around him," according to a 2001 article about Gregory's death in The New York Times.
Lorian Hemingway (daughter of Gregory and Shirley (Jane Rhodes) Hemingway) is an award-winning American author and freelance journalist, with works appearing in GQ, The New York Times Magazine, Esquire, The Seattle Times, Seattle Post-Intelligencer and Rolling Stone. Her books include the novel "Walking Into the River" (1992), her memoir "Walk on Water" (1998) and the non-fiction book "A World Turned Over" (2002) about the devastation of her hometown of South Jackson, Mississippi, by the Candlestick Park Tornado in 1966. In 1981, she founded the Lorian Hemingway Short Story Competition which is "dedicated to recognizing the voices of writers who have yet to be heard". The competition, which is open to U.S. and international citizens, draws between 800 and 1,200 submissions annually from the United States and around the world. The 2022 deadline is February 15.
Seán Hemingway (Ernest's grandson and Gregory's son) took on the project of restoring A Moveable Feast in 2004 – the memoir of Ernest's life in Paris during the 1920s with his first wife, Hadley, and their son, John (aka Jack and/or Bumby). This was after Seán had edited two other Hemingway books – "Hemingway on Hunting" and "Hemingway on War." Seán, a curator in the Department of Greek and Roman Art at The Metropolitan Museum of Art in New York, is also the author and/or editor of several titles focused on this area of art history. Seán also wrote "The Tomb of Alexander" in 2012.
Running with the Bulls: My Years with the Hemingways was written 2005 by Valerie Danby-Smith (who was an assistant to Ernest as a young adult and who, five years after his suicide, married his son, Gregory). "In prose of brilliant clarity and stinging candor, Valerie evokes the magic and the pathos of Papa Hemingway's last years" according to the book listing.
Strange Tribe was published in 2007, written by John Patrick Hemingway (son of Gregory and grandson of Ernest). This memoir "investigates the similarities between these two paternal figures and explores the Hemingways' failure as parents and how the familial disposition toward manic-depression created a genetic 'Hemingway curse.'"
Out Came the Sun: Overcoming the Legacy of Mental Illness, Addiction, and Suicide in My Family is Mariel Hemingway's deeply moving, searingly honest memoir, published in 2015. The daughter of Ernest's oldest son, John (aka Jack and/or Bumby), Mariel shares candid details of her "troubled childhood in a famous family haunted by depression, alcoholism, illness, and suicide."
Ernest's Way: An International Journey Through Hemingway's Life was written by Ernest's great granddaughter Cristen Hemingway Jaynes (granddaughter to Gregory, step-granddaughter to Valerie and daughter of Lorian, all noted above) and published in 2019. Her book takes readers "around the globe to the places he lived, wrote, fought, drank, fished, ran with the bulls and held court with T.S. Elliot, F. Scott Fitzgerald, Pablo Picasso, Gertrude Stein and many other influential writers, artists and intellectuals of the 20th century." She also wrote a short story collection called "The Smallest of Entryways" in 2012.
You can find most of these books (by or about Hemingway) at the Crooked Tree Library in Walloon Lake at 2203 Walloon Street, open Mondays (4-8pm) and Tuesdays/Wednesdays (10am-5:30pm).