The latest construction project in Walloon Lake was announced today during a groundbreaking ceremony for The Renwick, a multi-use project which will include 16 luxury condominiums and a market and retail space on the main level at the site of the former Walloon Village General Store (4036 M-75 North). Made possible by the Borisch family of local developers, the project is being managed by Wolgast Corporation; J. Visser, architect; and Kathryn Chaplow, Interior Designer; with Wally Kidd of Kidd & Leavy Real Estate handling the sales.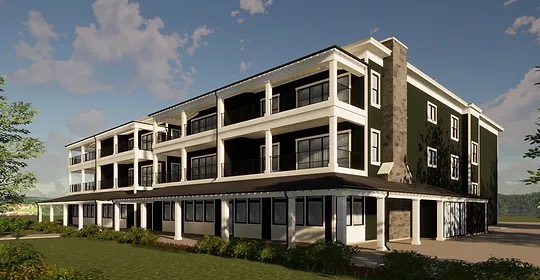 The history of this quaint northern Michigan community dates back more than 150 years, when the first homesteaders arrived here in 1872. It was first called Bear Lake, then briefly Tolcott and Talcott before ultimately being named Walloon Lake in September 1900.
Among the early resorters to settle along the north shore of the west arm of Walloon Lake were the Hemingways from Oak Park, Illinois. Dr. Clarence Hemingway, his wife, Grace, and their growing family – including their son and future Noble- and Pulitzer-prize winning author Ernest – would spend time every summer here for generations. Their family cottage, Windemere, is still owned by descendants of the family.
Throughout the early part of the 20th century, Walloon Lake remained a popular destination for those in Chicago and St. Louis to escape the heat while swimming, fishing and boating on the cool crystal blue waters. A dozen hotels popped up around the lake and throughout what would become Melrose Township, along with restaurants, delis, markets and even a bowling alley. Life on Walloon Lake was idyllic.
Yet, at its centennial, the once thriving resort area resembled a forgotten ghost town where tourists no longer gathered.
Jonathan Borisch was born in Walloon Lake, attending elementary school in the Village before relocating with his family to East Grand Rapids where he graduated high school in 1972. He established himself as a formidable businessman working alongside his father, and eventually his sons – Tom, Matt and David – at Borisch Manufacturing Corp, an aerospace and defense technologies contract company he started in 1994. After selling in 2010, Borisch began a second career as a commercial real estate developer. His life-long love of Walloon Lake – where he continued to spend his childhood and adult summers – gave him the inspiration and vision to dust off this sleepy town and work with the community to polish it into the gem that it was meant to be.
Among the early priorities were a new marina with one of northern Michigan's only Malibu boat dealerships and a year-round restaurant. Today both are found lakeside at 4069 M-75 where Tommy's Walloon Lake operates on the main level with Barrel Back Restaurant on top, which opened in 2013. In 2014, they acquired the historic 1891 Walloon Lake Inn (once known as Fern Cottage, one of the early restaurant/hotels) and last year introduced a private dining space called The Varnish Room.
Three years into the project, in the spring of 2015, the Borisch's unveiled the new Hotel Walloon, a three-story, 32-room boutique hotel, exquisitely designed by Jeff Visser and Kathryn Chaplow (who will reprise their roles as designers for The Renwick). Since 2016, Hotel Walloon has been recognized by AAA as a Four Diamond property – the only privately owned luxury hotel in northern Michigan to earn such honors. In 2022, the hotel was named Travel + Leisure's No. 1 Resort in Michigan.
The Renwick – named for Ross Renwick, who operated a General Store here from the mid-1940s through the mid-1960s – is the Borisch's latest endeavor. It is scheduled to be completed in early 2024, featuring 16 luxury condominiums (with private dock slips and private parking/garage) as well as the return of an expanded and updated Walloon Village General Store (on the site where a market has served the community for more than a century).
"While honoring Walloon's small-town history, Walloon Village General Store will keep many of the items and traditions and items community has grown to love," says Borisch. "Additionally, we hope to offer some unique, fresh and local products, along with essentials, for a friendly, and convenient shopping experience. We will provide an extensive offering of Michigan made products along with a large selection of beer, wine and liquor."
As for The Renwick, it becomes the latest Borisch development to be adorned with a name that pays tribute to Walloon Lake's early history – just like The Talcott (one of the village's early names), Barrel Back (a style of wooden boat that graces the lake each summer) and The Varnish Room (a businesses and gathering spot that operated in the village during the early 1900s).