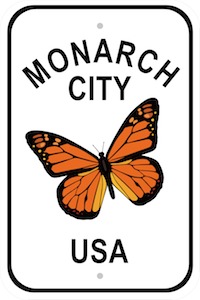 Last week, Melrose Township (Walloon Lake) was named a Monarch City USA – just the fifth such community in Michigan and the fourth in northern Michigan (joining Boyne City, May 2023; Kalkaska, March 2023; and Elk Rapids, August 2022). These communities pledge to provide environments and native areas for pollinator plants to grow wild, thus feeding and protecting monarchs and other butterflies, bees, birds and such.
According to the U.S. Fish and Wildlife Service, nearly a billion monarch butterflies have vanished across the country since 1990 due to loss of natural habitat like milkweed and nectar plants as the result of global warming, urban sprawl and use of pesticides. At this rate, monarchs could face extinction and it was this alarming reality that led to the creation of the non-profit Monarch City USA program in 2015.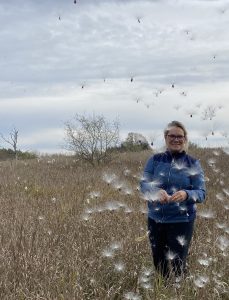 Local resident Lauri Juday, who has been fascinated with monarchs since childhood, spearheaded the initiative and has been working with others in the area – including the Walloon Lake Association and Conservancy (WLAC) – to create pollinator garden spaces to attract monarchs and other butterflies, bees and birds. WLAC has allocated resources to the development of three acres spread out over its various preserves and is hosting Thursday volunteer sessions to get the job done.
Juday maintains one of nearly 40 garden locations within a four-county area (Antrim, Charlevoix, Emmet and Kalkaska) registered as a Monarch Waystation through the national non-profit Monarch Watch program. Those listed actively propagate pollinator gardens loaded with milkweed (monarchs' primary source of food) and other nectar plants, while abstaining from the use of pesticides and other harmful substances.
Taking her commitment one step further, Juday raises monarchs from eggs to caterpillars to beautiful butterflies – a practice she learned from her mother and one she has shared with her own children and grandchildren. Monarchs are among more than 50 species of butterflies found and cataloged in the Great Lakes State.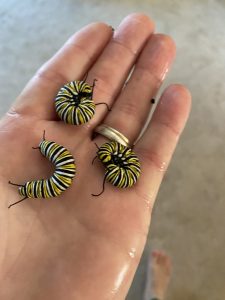 Michigan thinks so much of monarchs that in 2019 and again in 2021, there was a push in Lansing to have it named the official state insect!
In October 2019, four Michigan senators introduced Senate Bill 0581 to make the monarch the state insect, an idea initiated by a group of second graders from Gretchko Elementary School in West Bloomfield and supported by numerous gardening groups around the state, including the Michigan Garden Clubs, Inc. This bill was referred to Committee on Government Operations, where it ultimately died. A year and a half later, on May 6, 2021, House Bill 4808 was introduced by nearly three dozen Representatives also looking to make the monarch the state bug. It was referred to the Committee on Government Operations, where it stalled. To date, no bug – the monarch or any other – has been named Michigan's official State Insect (although the black swallowtail has historically given the monarch a run for its money with bills introduced in April 2017 and December 2021).