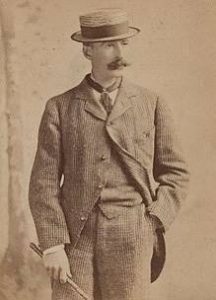 Ernest Hemingway was clearly a writer, but he also had an appreciation for art – thanks to his mother, Grace, who educated all of her children in a variety of cultural arenas. As he traveled the world, Ernest was known to visit museums – including the Prado, the Louvre, the Metropolitan Museum, the Accademia in Venice and Art Institute of Chicago.
One artist that Hemingway expressed admiration for was Winslow Homer (1836-1910) – one of the foremost American landscape painters in the nineteen century – best known for his maritime scenes. Both men had a fascination for the Gulf Stream and portrayed the waters in their own distinct ways. With the 1952 publication of The Old Man and the Sea, Hemingway's writing style was described as realistic and was even compared to Homer's painting style.
And while Hemingway was well aware of Homer and his works, the artist was long passed by the time the Nobel and Pulitzer Prize winning author became a world-wide household name.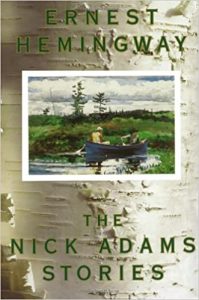 Yet, years after Hemingway's death, editors drew upon his respect for Homer's work to grace not one but two book covers.
In 1981, when Scriber released its latest paperback edition of The Nick Adams Stories, they chose Homer's "The Blue Boat" for the cover art. Painted in 1892, the watercolor depicts two men in a blue canoe fishing along the banks of a river.
"In this image, Winslow Homer painted in a perspective of a viewer who is a distance away to capture more details such as the sky, water, and the surrounding vegetation," according to WinslowHomer.net/blue-boat/. "One man at the bank is still paddling, while the one at the front enjoys viewing the surrounding as depicted by his prose. Both have a dressing code that is similar to that of rural America at the time of the painting."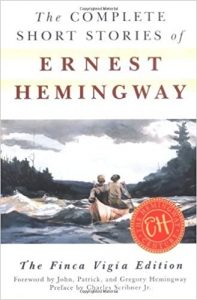 Looking upon the painting brings up thoughts of Nick Adams and his father (or Ernest and his) as they explored the waters around Walloon Lake and northern Michigan.
Another Homer image – "Canoe in Rapids" painted in 1897 – was selected for the cover of the third edition of The Complete Short Stories of Ernest Hemingway: The Finca Vigia Edition which was released on August 3, 1998.
Much like Hemingway's vast book portfolio, Homer's paintings have been printed and framed and sold throughout the world. We think both men would approve of how their individual works compliment each other and how nearly 130 years later Homer's paintings are finding new fans at the hands of Hemingway readers.