Have you noticed that many boats are given female names?
Why is that?
It is believed that in ancient times, vessels were dedicated to goddesses who were thought to protect the voyage and the voyageurs. Also, since women were not allowed to sail with the crew (in most cases), the Captain would often name his ship after an important woman in his life.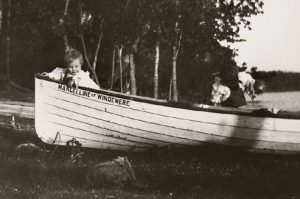 At the Hemingway's Windemere cottage on Walloon Lake, there were several small boats over the years named after the daughters of Clarence and Grace (Hall) Hemingway…the Marcelline, Carol, Sunny and Ursula (which has been restored and is owned by a descendant of the family). Pictures of the launches named for Carol and Sunny can be found in the book ERNIE (by Madelaine "Sunny" Hemingway Miller, 1975 from Crown Publishing) on pages 25 and 65, respectively.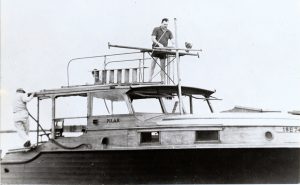 Even Ernest Hemingway's beloved 38-foot 1934 Pilar – from which he regularly fished in the waters of Key West, the Gulf Stream off the Cuban coast and even to the Bimini Islands – was a tribute to his second wife, Pauline (wives #3 and #4 must have loved that, given he owned the boat until his death in 1961). The boat today is on display at the Museo Ernest Hemingway at Finca Vigia – Hemingway's former home near Havana.
Pilar was also the name of a woman leader of the partisan band in Hemingway's 1940 novel From Whom the Bells Toll and several of his books were influenced by time spent on this historic boat – including The Old Man and the Sea (1953) and Islands in the Stream (published posthumously in 1970).
And let's not forget Papa's Pilar rum which are used to craft delicious cocktails worthy of the Pulitzer and Nobel Prize winning author (and available at Walloon Lake Inn and Hotel Walloon).